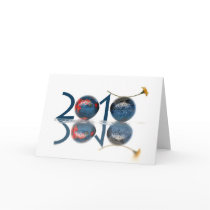 The new year 2010 will just not bring  a new year but also a new decade. It will also bring a start of surge in economy for the coming decade. The market is making a upward move and the things are settling down. Everything seems to be slowly and slowly coming back to the right pace. CNN Money reports according to the CareerBuilder 2010 Job Forecast, 20% of employers are planning to increase their number of permanent, full-time employees for New Years 2010.
This will also be a blue moon New Years Eve, there will be a partial eclipse.  The New Year's Eve blue moon will be visible in the United States, Canada, Europe, South America and Africa. For partygoers in Australia and Asia, the full moon does not show up until New Year's Day, making January a blue moon month for them. However, the Eastern Hemisphere can celebrate with a partial lunar eclipse on New Year's Eve when part of the moon enters the Earth's shadow. The eclipse will not be visible in the Americas.To find out more about the blue moon New Years Eve and times for the partial eclipse, visit Fox News.
The countdown to the new year is also an interesting thing to watch for.